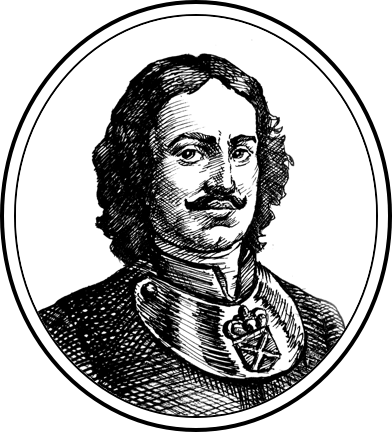 Peter I and the Romanovs
The Russian jeweler's art saw tremendous changes in the 17th century. Peter I, who guided Russia towards Europe, also changed the habits of people. Apart from new clothing fashion, balls and assemblies created a market for jewelry. Russia was proclaimed to be Empire, and the crowning ceremonial was replaced by a solemn coronation ceremony. Since it requires proper arrangement and decoration, Peter the Great ordered Russian craftsmen to create the first Imperial Crown of Russia
For the first time in history, Peter I established state supervision over the jewelry industry and launched the development of diamond deposits. Early in the 18th century, the first cutting and polishing factory was created in Peterhof by his Imperial Edict. A few years later, such factories already operated in Yekaterinburg and Altai. Russian jewelers supplied golden jewelry with diamonds, pearls and gemstones not only to the Russian Imperial Court, but to England, France, Italy and the Austrian Empire as well.
Dynasties
The Romanov-era great Imperial Court sparkled with an abundance of diamonds. One of the evidences is left by the famous French traveler Astolphe de Custine in his notes on the visit to Russia: "Ladies' jewelry and gemstones shone with a magical light among all the treasures of Asia that covered walls of the cathedral where the royal luxury seemed to compete with the greatness of God."
Many of the jewelry masterpieces of that period were created by orders of the representatives of the most famed family dynasties of the Russian Empire, who had a huge impact on the development of the Russian jewelry industry. The most famous of them were Count Pyotr Sheremetev, Count Grigory Orlov, Minister of Foreign Affairs in the office of a Chancellor Mikhail Vorontsov, and Counselor of the Catherine the Great Nikolai Yusupov.